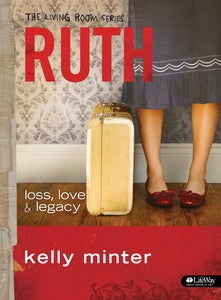 $

12.95
Ruth's journey of unbearable loss, redeeming love, and divine legacy comes alive in Kelly Minter's Ruth: Loss, Love & Legacy—the second study in the Living Room Series. This 6-week Bible study delves into the noble character of Ruth, her unique relationship with her mother in-law Naomi, and her blossoming love with Boaz.
If you've ever been devastated by loss, struggled as a stranger, longed to be loved, or wept along the way, you'll find a place with Ruth. This study includes stories, recipes, a leader guide, and fun short videos that can be viewed by visiting http://kellyminter.com/the-living-room/videos/ .
Enhance your experience with Loss, Love & Legacy—a CD of original songs written and performed by Kelly to accompany this Bible study.